DEXIN Polyetheramine (PEA) ZD-123, ook wel Amine-Terminated Polyether ZD-123 genoemd, is een difunctionele primaire amine met een gemiddeld molecuulgewicht van ongeveer 230. Polyether Polyamine ZD-123 wordt gebruikt voor epoxy-verharder, polyurea-systeem, Epoxyhars en windkracht systeem. ZD-123 amine is licht in kleur, lage viscositeit en dampdruk, hoog in primaire amine inhoud, en volledig mengbaar met een grote verscheidenheid aan oplosmiddelen, waaronder water. Het wordt geproduceerd door onze dochteronderneming, ZIBO ZHENGDA POLYURETHANE CO., LTD.
Structuur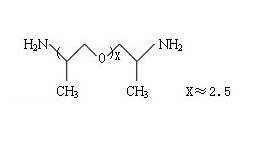 Toepassingen
Epoxy verhardingsmiddel
Reageert met carbonzuren om heetmeltlijmen te vormen
Reageert snel met isocyanaten.
Zouten kunnen gemakkelijk worden gevormd voor het gebruik van surfactanten
Voordelen
Lage viscositeit, kleur en dampdruk
Volledig mengbaar met een grote verscheidenheid aan oplosmiddelen, inclusief water
Biedt zware, heldere, impactbestendige coatings, gietstukken en kleefstoffen
Coatings zijn vrij van oppervlakkige bloospreventie met veel amine-hardenmiddelen
Sales Specifications

Items

Values

Appearance




Coloress to pale yellow transparent liquid




Color, Pt-Co




25max.




Primary amine, % of total amine




95min.




Total amine, meq/g




8.1-8.7




Water, wt%




0.25max
Typical Properties

Items




Values




AHEW(Amine hydrogen equivalent wt.), g/eq




60




Equivalent wt. with isocynates, g/eq




120




Viscosity, cSt,

25°C (77°F)




9.5




Density, g/ml(ib/gal),

25°C




0.948(7.90)




Flash point, PMCC,

°C (°F)




121(250)




pH, 5% aqueous solution




11.7




Refractive index, nD20

1.4466




Vapor pressure, mm Hg/°C




1/100

10/133
Verpakt / verzonden
Drum 195kgs netto gewicht.
Iso Tank appro.23,000.00kgs netto gewicht.
IBC 942kg netto gewicht.
Product Categorie : Amine-beëindigd Polyether