ZHENGDA Amine-beëindigde Polyether / Polyetheramine ZT-143 wordt gekenmerkt door het herhalen van oxypropyleeneenheden in de ruggengraat. Het is een poly (propyleenoxide) beëindigd verbinding hoofdzakelijk door primaire amidogen. Polyetherpolyamine ZT-143 is een trifunctioneel, primair amine met een gemiddeld molecuulgewicht van ongeveer 440. Het is ontworpen voor epoxyhardingsmiddel, epoxyhars, windenergie en polyurea systemen. De hars die door polyetheramine ZT-143 wordt gehard, heeft een uitstekende taaiheid, slagvastheid en lage temperatuurtolerantie.
Structuur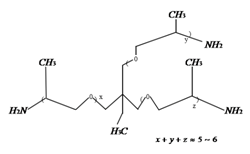 Toepassingen
Epoxy verhardingsmiddel
Anti-sag agent voor polyurethanen
Voordelen
Lage kleur en dampdruk
Volledig mengbaar met een grote verscheidenheid aan oplosmiddelen, inclusief water
Verbetert flexibiliteit en kracht
Sales Specifications

Items

Values

Appearance




Coloress to pale yellow transparent liquid




Color, Pt-Co




50max.




Primary amine, % of total amine

90min.




Total amine, meq/g




6.1-6.8




Water, wt%




0.25max
Typical Properties

Items




Values




AHEW(Amine hydrogen equivalent wt.), g/eq

81

Viscosity, cSt,

25°C (77°F)




72

Density, g/ml(ib/gal),

25°C




0.978(8.12)




Flash point, PMCC,

°C (°F)




196(385)




pH, 5% aqueous solution




11.6




Refractiveindex,n

D

20




1.46




Vapor Pressure, mmHg/°C




1/181

5/207
Verpakt / verzonden
Drum 200kgs netto gewicht.
Iso Tank appro.23,000.00kgs netto gewicht.
IBC 1000kg netto gewicht.
Product Categorie : Amine-beëindigd Polyether