Polyether Amine / Amine-Terminated Polyether ZD-4000 wordt gekenmerkt door het herhalen van oxypropyleen-eenheden in de ruggengraat. Polyetheraminefluïdisatiemiddel (PEA) ZD-4000 is een kleurloze doorzichtige vloeistof, en het is een difunctioneel primair amine met een gemiddeld molecuulgewicht van ongeveer 4000. Polyether polyamine ZD-4000 wordt gebruikt als hardingsmiddel en belangrijkste ingrediënt in de formulering van polyureum RIM, En co-curing agent in epoxysystemen. Het wordt ook gebruikt in windkracht, epoxyhars, coatings en lijmindustrie.
Structuur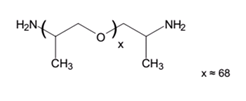 toepassingen
Belangrijkste ingrediënt in de formulering van polyurea RIM
Co-hardenmiddel in epoxysystemen, die extra flexibiliteit en taaiheid vereisen
Algemene polymeer flexibilisator
voordelen
Relatief lage viscositeit, kleur en dampdruk
Verbeterde flexibiliteit van polyether ruggengraat met hoge molecuulgewicht
Verhoog de schilsterkte
Sales Specifications

Items

Values

Appearance




Coloress to pale yellow transparent liquid




Color, Pt-Co




25max.




Primary amine, % of total amine

99min.




Total amine, meq/g




0.45-0.52




Water, wt%




0.25max
Typical Properties

Items




Values




AHEW(Amine hydrogen equivalent wt.), g/eq

1000

Equivalent wt. with isocynates, g/eq




2000




Viscosity, cSt,

25°C (77°F)




877

Density, g/ml(ib/gal),

25°C




0.994(8.29)




Flash point, PMCC,

°C (°F)




227(440)



Verpakte / Verzonden
Drum 200kgs netto gewicht.
Iso Tank appro.23,000.00kgs netto gewicht.
IBC 1000kg netto gewicht.
Product Categorie : Amine-beëindigd Polyether